Before I had My second baby, Ellie, I bought a double stroller thinking I would use that the majority of the time. What I didn't realize is that it didn't fit in my car! So I ended up only using it once or twice and either carrying or wearing the baby.
Well, now that my "baby" is getting bigger and is a lot more independent an walking, I needed a new plan.
I was sent a
tag-a-long
just in time! Ellie does pretty well in the small stroller, and Jack loves to walk with me holding onto the stroller. But I was always tripping over him because he would want to help push, or would just walk in my way.
But, I finally got the chance to try the tag-a-long (as in I finally didn't forget it!) and it was awesome! Jack loves it! He wants to hold on, and loves that it is his. He gets mad if I start walking and he isn't holding on yet. It keeps him far enough away from me that I am not tripping over him, and because he has something to hold on to he isn't constantly trying to push with me!
I wish I would have gotten this sooner! I think it will be great to attach to the shopping cart in the store since he hasn't been wanting to sit in the cart anymore either.
If you have two kids (or even an independent toddler who doesn't want a stroller) I would highly recommend the tag-a-long!
The tag*a*long was designed, developed, and manufactured in the USA by a mom and dad design duo from Philadelphia, PA. I like that it is made in the USA!
It can be used on your diaper bag, rolling luggage, strollers, shopping carts, anything you can think of! It is super easy to put on and take off too! And, it fits nicely in a diaper bag or purse!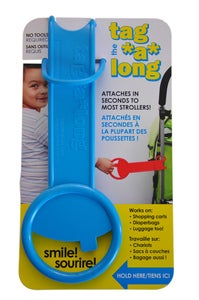 Want to get one for yourself? Head over to
www.tagalongkids.com
and check them out! They are only $9.99, which I think is a great deal!
Or, you can win one! Tag-a-long has graciously offered one of my readers a tag-a-long of their own! Enter using the rafflecopter form below!
a Rafflecopter giveaway