I am a little late today... sorry! But welcome to any new faces from one of the Friday Follows! There are lots of them:



Friendly Follow is hosted by Thanks, Mail Carrier , Healthy Home Blog and Frugal Novice! Visit their blogs to join in!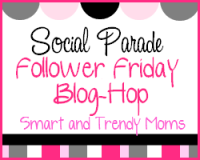 Social Parade is hosted by Smart and Trendy Moms!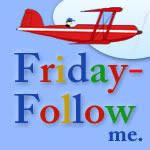 Friday Follow me! Hosted by Hearts Makes Families, Harriet and Friends, and The Daily Dose of Reality! Visit Friday Follow me to join in!



Fun Follow Friday is hosted by Simply Stacie and My Wee View




Friendly Friday Follow is hosted by Toddler Awesome!




New Friend Friday is hosted by The Girl Creative!



Follow Me Fridays is hosted by Trendy Treehouse!


There are lots of linkys out there! Be sure and check them all out!